2010 FIRST FRC Game: Breakaway
To see what has been happening during the season check out our newsletters:
About the Game
Breakaway is a game played on a 27'x54′ field. Two alliances, one red and one blue, composed of three FIRST teams each, compete in each match. The object of the game is to attain a higher score than your opponent by shooting balls into a goal, climbing on the alliance tower or platform, or by lifting an alliance off the playing surface.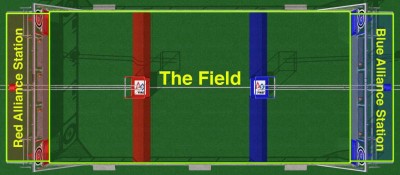 Greater Kansas City Regional Information
Boilermaker Regional Information
Game Animation
Awards Received in 2010:
Greater Kansas City Regional
Engineering Inspiration Award
FIRST Dean's List Finalist Award- Paul Sites
Excellence in Design Award sponsored by Autodesk
Boilermaker Regional
Entrepreneurship Award Sponsored by Kleiner Perkins Caufield & Byers